When:
March 5, 2022 @ 7:30 am – 9:30 am
2022-03-05T07:30:00-08:00
2022-03-05T09:30:00-08:00
Contact:
Joy Sterling, CDP Rural Caucus Chair
707-484-0013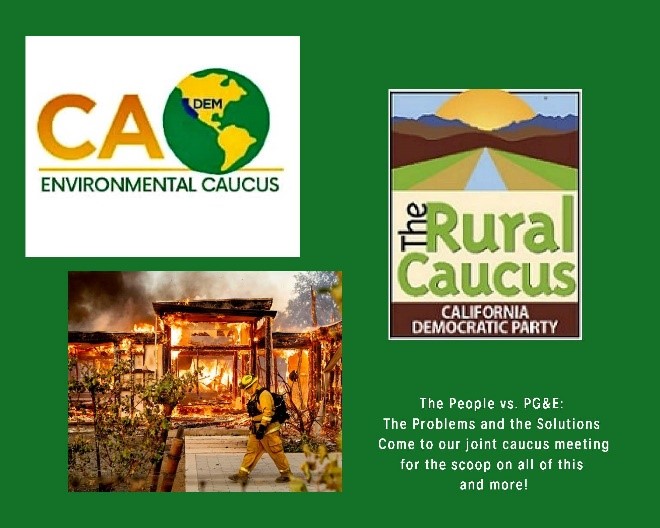 Our next meeting is during the CDP Virtual Endorsement Convention – March 4 – 6, 2022. 
Joint CDP Rural Caucus & CDP Environmental Caucus Meeting is Saturday, March 5, 2022 from 7:30AM – 9:30AM (Virtual Door opens at 7:15AM)
Please join our meeting via zoom: https://bit.ly/ruralenviromtg
Joint Rural & Environmental Caucus Meeting:
"The People vs. PG&E -The problems and the solutions"
Our Guest Speakers include:
Eleni Kounalakis, CA Lt. Governor
Rusty Hicks, CDP Chair 
Justin Meyers, CDP Executive Board Member
Catherine Sandoval, Former CPUC Commissioner 
Pete Woiwode, Reclaim Our Power!
Esperanza Vielma, Coalition for Environmental Equity and Economics
Ken Wells, O&M Solar
Crystal Huang, People Power Solar Cooperative
2022 CDP Platform – Rural Plank
A guide to Indigenous land acknowledgment