When:
February 16, 2020 @ 11:00 am – 1:00 pm
2020-02-16T11:00:00-08:00
2020-02-16T13:00:00-08:00
Where:
The Tuolumne Senior Center
540 Greenley Road
Sonora
CA 95370

Contact:
Alejandro R. Carrillo, Regional Director, CDP Region 4
209-600-3864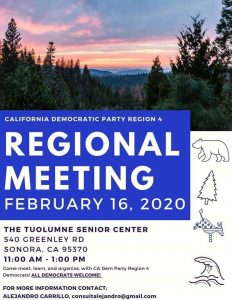 CDP Region 4 Meeting (Tuolumne County)
ALL DEMOCRATS are welcomed to our Region 4 Regional Meeting & Potluck in beautiful Sonora, CA! Come meet CDP Endorsed candidates, local endorsed candidates, DNC delegate candidates, and learn how you can join the people's wave!
Regional Meeting & Potluck
Date: Feb 16, 2020
Time: 11:00 am – 1:00 pm
Location: The Tuolumne Senior Center
(540 Greenley Rd. Sonora, CA)
RSVP here: https://www.facebook.com/events/180725706319349/
CANDIDATES/CAMPAIGNS: We have limited space but tables are available for a come first serve basis. Priority will be given to CDP & local central committee endorsed candidates from our region. DNC Delegates also welcomed to request a table and will be allowed to speak to the body – several candidates from across the state have already confirmed attendance.
RESOLUTIONS: Please send me any resolutions you want to be read and voted on at this meeting.
BRYNNE KENNEDY FOR CONGRESS: I'd say "Let's send McClintock packing!" but he doesn't even live in Congressional District 04 – so it's that much easier to get rid of him once and for all! We will be joining forces with the Brynne Kennedy for Congress campaign for a Sonora take over! The blue wave is coming to the foothills and you can be a part of it. For more information contact kara@brynneforcongress.com or check out https://brynneforcongress.com/