When:
September 24, 2019 @ 1:15 pm – 4:30 pm
2019-09-24T13:15:00-07:00
2019-09-24T16:30:00-07:00
Where:
Clovis Veterans Memorial District
808 4th Street
Clovis
CA 93612

Contact:
Self-Help Enterprises
(559) 651-1000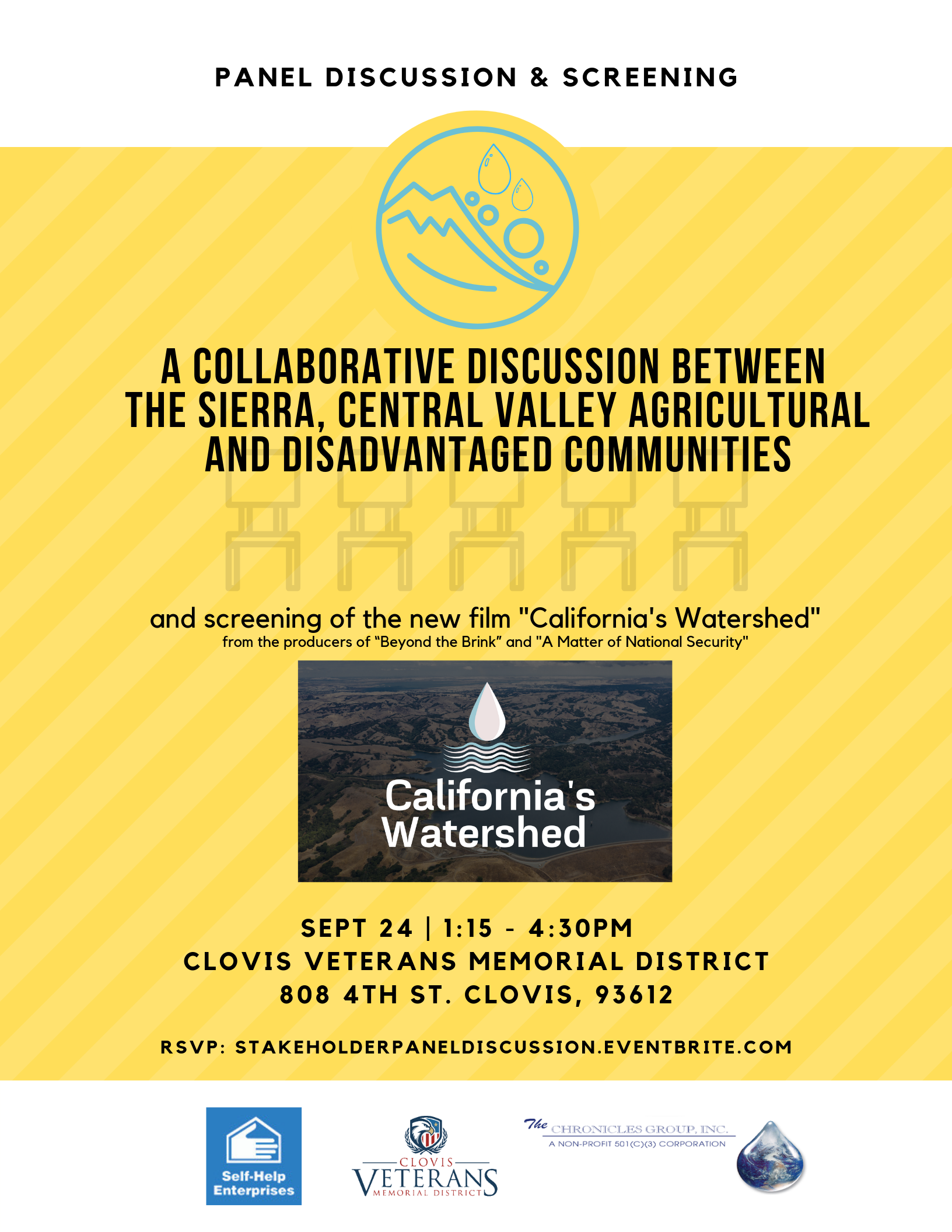 Description
A collaborative discussion between the Sierra, Central Valley Agricultural and Disadvantaged communities
The Clovis Veterans Memorial District, The Chronicles Group, Inc., and Self-Help Enterprises will host an expert panel discussion on possible collaborative efforts between Sierra watershed stakeholders, Valley farmers, government and disadvantaged communities.
THE PANELISTS:
Armando Quintero, Executive Director of Sierra Nevada Research Institute at UC Merced, California Water Commissioner.
He currently serves on the California Water Commission, having been appointed by Governor Brown in June 2014. The Commission provides a public forum for discussing water issues, advises the California Department of Water Resources, and takes appropriate statutory actions to further the development of policies that support integrated and sustainable water resource management and a healthy environment. Armando is the executive director of the Sierra Nevada Research Institute at UC Merced. He also supports a new multi-campus UC Water Security and Sustainability Research Initiative designed to build a strategic base of water knowledge to help California and the nation achieve a water-secure future. He previously served as the SNRI director of development from 2008 to 2014.
Ryan Jacobsen, CEO/Executive Director, Fresno County Farm Bureau
Ryan Jacobsen, of Easton, is no stranger to Farm Bureau or agriculture. He is the fourth generation of two Fresno County farm families and previously served as FCFB's issues coordinator and as the organization's membership coordinator, beginning in 2004. Jacobsen is a honors graduate of California State University, Fresno with a master's degree in business administration and a bachelor's degree in animal science. He currently serves as president of the Fresno Irrigation District Board of Directors, secretary/treasurer of the Kings River Water Association and president-elect of the Rotary Club of Fresno. He is also the host of the television show, Valley's Gold, which provides a behind-the-scenes look of the California agricultural industry.
Brittany Dyer, American Forests, California State Director
While American Forests has a rich history of project work in California, prolonged drought, tree mortality, pest disturbances, increased wildfire activity, and an ever-changing climate call for more coordinated, on-the-ground action. Brittany has worked on forest health issues in California since 2009 where she served in leadership positions for a regional nonprofit and local government. She currently serves on the Governors Forests Health Task Force. Her priority at American Forests is to expand the implementation of climate smart restoration treatments as state, federal and private partners accelerate the pace and scale of forest restoration activities. Brittany, an AmeriCorps VISTA alumni, has a B.S. in Communications/Public Relations and most recently obtained a Master of Natural Resources via the Forest Ecosystems and Society program at Oregon State University.
Jeannie Habben, Madera County, Deputy Director of Water and Natural Resources
Jeannie Habben has 17-years of experience in working with water and natural resources. In her current role, he helps develop and implement county policy and activities regarding surface water, groundwater and watershed management. She works with a variety of committees, organizations and stakeholders regarding water and natural resources issues. Presently, much of her time involves preparing for compliance with the Sustainable Groundwater Management Act (SGMA). Prior to her current role, as a Watershed Coordinator, Resource Conservation District Coordinator, administrator, facilitator, and/or coordinator of many water and natural resource groups in the Central Valley and Sierra Nevada foothills.
Lorenzo Rios, CEO, Clovis Veterans Memorial District
Prior to assuming the role of CEO at the Clovis Veterans Memorial District, Lorenzo Rios retired as a Lieutenant Colonel in the Army after 23 years of distinguished military service where he led troops overseas in the Balkans, Iraq and Afghanistan, earning two bronze stars. Lorenzo is also a former Assistant Professor of International Relations at West Point, U.S. Military Academy. He is dedicated to the enhancement of the community through active involvement in his church, local school districts, boys and girls scouts, service organizations, and veterans organizations.
Daniel Chavez, Planada Community Services District General Manager & Lifelong Planada Resident
Daniel is a lifelong resident of Planada. He began his teaching career in 1970 at Planada Elementary School and later served as Principal for the Planada School District for 37 years. In 2012, he was hired as the first Planada Community Services District Manager to direct the 13 million dollar wastewater plant and then the 1.7 million dollar solar project at the wastewater plant. Daniel is also part of the founding municipal advisory community board, and has been for over 25 years and the Planada School Board for over 8 years. He was recently appointed as a representative of the disadvantage communities of Le Grand Community Services District, Winton Community Services District and Planada Community Services district on SGMA. Daniel serves on the MIUGSA (Merced Irrigation Urban Groundwater Sustainability Agency).
ABOUT THE DOCUMENTARY
The documentary "California's Watershed" focuses on the water and food nexus and its evolving implications for national security through the lens of the Sierra Watershed and the California Central Valley, a microcosm of this global crisis. Conceived, direted and produced by veteran documentarian Jim Thebaut of The Chronicles Group, "California's Watershed" presents the realities of a dramatic population grow and explores the escalating intensity of drought conditions, as well as water scarcity, groundwater depletion, the threatened Sierra Nevada watershed and their effects on the Valleys farmers and disadvantaged communities.
Screening will take place prior to panel discussion.
ABOUT THE PRODUCER
Jim Thebaut is an accomplished and experienced CEO, President with expertise and extensive achievements as an environmental planner, journalist, Executive Producer of documentaries, educator, world traveler and ambassador of diplomacy and a public policy expert. As Chief Executive Officer, President and Executive Producer of the Chronicles Group, Inc, a non profit 501 (c) (3) Corporation he's influencing critical public policy about the threat of the evolving global humanitarian water crisis and its dire effect on international security. He has managed multi-disciplinary teams and created the public information education documentary feature projects: California's Watershed and Beyond the Brink.